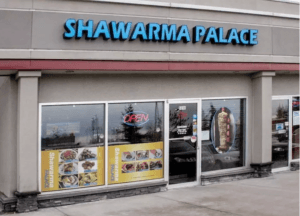 Shawarma Palace is a family owned and operated restaurant established in the Calgary area in February of 2009.
Since its initial grand opening, Shawarma Palace has successfully flourished as a local business that continues to strive in satisfying customer needs and expectations.
The various exquisite food that Shawarma Palace has to offer lies entirely in the special mixture of herbs and spices that the chefs use in their extraordinary dishes, which range in flavour, texture, and boldness. Stemming from the origins of Mediterranean cuisine, the unique taste of the food is a direct result of family collaboration and dedication, earnest teamwork, and the perpetual love that is shared for pleasing our customers. Therefore, Shawarma Palace continues to provide generous and heartfelt service to locals across the city.
Much of the renowned success that Shawarma Palace has achieved can be attributed to our hardworking teams and the positive support and feedback received from our valued customers. We understand that becoming a prosperous eatery and bistro is not something that occurs overnight. We have put in an immense amount of time, effort, and hard work to help expand and advance Shawarma Palace into the exceptional establishment that it is today. Our aspirations and commitments as servers for Shawarma Palace reflect the true passion that our team has for the hospitality trade.
Currently, Shawarma Palace is open in four locations, three locations in the N.W., N.E., and S.E. quadrants of Calgary and one location in Airdrie.
This combination of an agile approach to team management, and an obvious commitment to preparing the best food possible, results in something truly special
We combine exceptional customer service with a unique take on traditional Shawarma dishes. Every item on our menu is prepared using our special spices and recipes, from the very freshest produce. We aim to satisfy our customers every time, to ensure that they leave happy and fulfilled and coming back for more!